Chum Salmon Reintroduction Project Staff
Image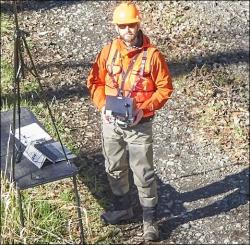 Erik Suring - Project Leader
Erik Suring is the Project Leader for the Chum Salmon Reintroduction project and Salmonid Life Cycle Monitoring (LCM) project (odfwlcm.forestry.oregonstate.edu) and is the agency's Unoccupied Aircraft Systems Coordinator.  He has worked for ODFW since 2004 after graduating with a M.S. in Marine Science from the University of Otago, New Zealand.  Originally from Southeast Alaska, Erik graduated with a B.S. from the University of Alaska Fairbanks.  Erik first worked with Chum Salmon as an undergraduate on tributaries of the Yukon River examining early life history survival.
Image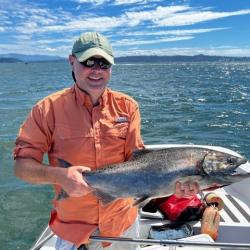 Scott Kirby - Assistant Project Leader
Scott Kirby is the Assistant Project Leader for the Chum Salmon Reintroduction project, joining the team in the fall of 2021. He graduated from the University of Oregon with a B.S. in biology in 1999 and began his career in the plant kingdom, leading wetlands restoration crews for the City of Eugene, and then as a biological technician in the botany department for the USFS Umpqua National Forest. He started working for ODFW in 2002 with the Coastal Chinook Research and Monitoring Project on the Nehalem River and has since been doing long-term monitoring and research of salmonid populations and habitat, primarily on Oregon's North Coast. Before joining the Chum Project, he was the Oregon Plan Monitoring Crew Leader in Tillamook, and every fall he looked forward to working with the North Coast Chum runs returning to the stronghold populations in the Nehalem and Tillamook Bay Rivers. 
Image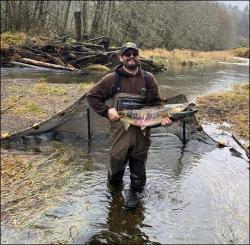 Brian Libercajt - Biological Science Assistant
Brian Libercajt is one of two Chum Salmon Reintroduction project Biological Science Assistants.  He is a graduate of the Mt. Hood Community College Fisheries Technology program.  Originally from Myrtle Creek, Oregon, Brian migrated to the northern part of the state for the opportunity to work with Chum Salmon in the Lower Columbia River basin.  Previous to joining the Chum Salmon Reintroduction project, Brian did extensive volunteer work with ODFW in both field and hatchery settings, and with Washington Department of Fish and Wildlife working with warm water and inland species.
Image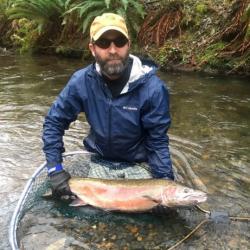 Kevin Hall - Biological Science Assistant
Kevin Hall is one of the biological science assistants on the chum reintroduction project. He started on the project in 2021 but has been with ODFW for over 5 years. During that time, he has port sampled, creeled, done spawning ground, habitat, and snorkel surveys, PIT tagged sturgeon, hazed cormorants and commercial sampled. Before coming to work with ODFW he received his B.S. in Environmental Science from Southern New Hampshire University. When not working, Kevin has a keen interest in golfing and kayaking but also enjoys reading and relaxing with his cat.
Image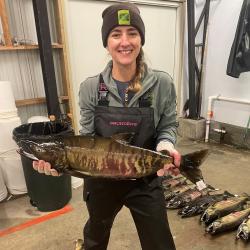 Kelcee Smith - Reintroduction Coordinator
Kelcee Smith is the current Chum Salmon Reintroduction Coordinator for ODFW, joining the project in fall 2021. Originally from the Southeast, she has over ten years of experience monitoring and evaluating the conservation status of imperiled species in the Gulf of Mexico. After receiving a B.S. in Marine Biology from Spring Hill College in 2010, she worked as a fisheries biologist for the National Marine Fisheries Service in Panama City, FL, where she wrote status reviews for marine species petitioned for listing on the Endangered Species Act, co-led juvenile shark abundance surveys, and monitored Endangered Smalltooth Sawfish (Pristis pectinata) in the Florida Everglades. The numerous biological data gaps in Smalltooth Sawfish life history spurred her return to graduate school in 2014. As a Ph.D. student at Louisiana State University (LSU), Kelcee analyzed temporal changes in genetic diversity for the U.S. population of Smalltooth Sawfish using DNA from museum specimens. During this time, she also worked with the Texas Parks and Wildlife Department as a Science Policy Fellow with the National Academies of Science – Gulf Research Program to evaluate the conservation status of marine species in Texas. She graduated with her Ph.D. in Renewable Natural Resources from LSU in 2021. Kelcee is broadly interested in improving recovery efforts for imperiled species by leveraging communication techniques, policy resources, and sound scientific research. Outside of this, Kelcee is an avid runner and swimmer, but enjoys knitting, baking, and cheering for the New Orleans Saints on her off days.